Highlights
Medieval Empires is an elaborate, multi-player online strategy game that is set in the Levant region in the late 13th century. The storyline of the game focuses on Ertuğrul Gazi, a tribal warrior and a celebrated leader of the Kayi tribe.
Multiplayer Online Strategy. Fight off invaders, build towns, raise armies, recruit heroes and explore & conquer lands in this historically inspired grand strategy experience.
Play & Own. Smart NFTs and on-chain gamification, paired with captivating gameplay to ensure a strong Play & Own focus.
Physical & Digital NFTS with Utility. Some NFTs aren't just digital but physical too! These real-world unique items are sent to players as collector items, as well as entry tickets to unique events!
Persistent Online World. Players buy land to become 'Beys' or 'Lords', building realms that leave a lasting mark on the world. PvE and PvP territories change ownership as the world continually expands.
Community Battles. Seasonal Battles offer recurring events for players to prove their skills and earn unique trophies, glory, and crypto rewards.
Massive Historic Battles. Once-in-a-lifetime Historic Battles draw thousands of players into fights, leaving a lasting mark on the game; permanently expanding the playable world in Medieval Empires.
Product
Medieval Empires is being built on the Polygon blockchain as it provides several great features, including player reach, developer ecosystem, low gas fees, security, and speed. In addition to that, it is also eco-friendly, as compared to Ethereum and Bitcoin. The game will be available on PC (Windows), MAC (OSX), and Mobile (iOS and Android), with all platforms being fully interoperable.
In the game, Ertuğrul Gazi, played by Engin Altan Düzyatan, will face off against the future King Edward 1st aka Edward Longshanks aka Hammer of the Scots, who is expanding a successful 9th Crusade across Europe to the Holy Land.
The game is set in a passive PvE area and starts with players building towns through trading, fighting, and forging alliances. Goals for players include daily missions, general tasks, and story missions, with progression based on the successful completion of these tasks and missions.
The future of the game will bring in new leaders and regions for the players to explore and progress in. In addition to the Longshanks Crusaders and Turkish Tribes, new factions will be integrated into the game in the near future, including the Mongols and many more.
Challenges in blockchain games projects
Mediocre Quality. Due to the hype of the business, many crypto-games are quick cash-grabs clones of existing popular games.
Niche Audience. Blockchain games usually primarily cater to the crypto-crowd, meaning the exposure is almost always 'niche'.
Crypto Wallet gate. Blockchain powered games are notoriously complicated to get into, as they require 'crypto wallets' to get started.
How Medieval Empires is solving these issues?
Experienced Team. Our experienced team of almost 50 people has decades of work experience working on some of the biggest games and studios in the industry. Many of our core team come from gaming studios such as InnoGames, Wargaming, King, Kabam, 5thPlanet Games, Wooga and many others, or have worked directly on Star Wars & Disney productions. With this we put great focus on creating a fun, quality experience.
Mainstream Audience. While in our game we are also catering to this powerful niche-crowd through our co-founder Carl Runefelt aka the Moon, who happens to be one of the biggest crypto influencers in the world; but by featuring Engin Altan Düzyatan we are opening up the game to the masses, greatly increasing the potential size of the playerbase.
Custodial Wallet. In order to accommodate a more mass appeal we will be providing a custodial wallet and a clever free-2-enter setup; so even if players know nothing of crypto they can still easily get into the game, play and earn.
What makes the project unique?
Growing world map
From release onwards and over time, the world map will continue to expand. New lands will be added, reaching from Europe and Africa, via Middle East all the way to Asia.
Evolving Hero System
Heroes are a fundamental part of the game: during the continues development of Medieval Empires, more and more system, like gear, will be added to the depth of hero gameplay. By that, players have the chance to develop their unique heroes and lead them either into battle or sell them on market places.
Unique Setting
While the Medieval Age isn't unique as such, focusing and highlighting on the Middle Eastern part and using the Turkic area as starting point, delivers a new angle and allows for a new historical setup and direction.
Regional battles that define map development
Next to PvE Land, the game will offer PvP and event counties. The individual interactions of the players, will define the use and development of such counties. Conquering them for the own faction, can ultimately lead to a shift of powers within that region.
DeFi Staking Mechanisms (VIP System)
Making use of the companies MEE Token, the player has the chance to stake them in game. That will allow to not only having the chance of participating in air drops but also receive game specific benefits, such as boosts.
Renting out land
Medieval Empires does not only allow to sell resources, to make up for land investments but also to rent out the land to other players. By that, the owner of land will have the possibility to generate a passive income, to make up for his/her investment.
Single shard, persistent game world
This mechanic will allow for seamless game experience and cooperation between all players. Everyone on the map will see the same universe of Medieval Empires, without any cut into the user experience.
True cross platform gameplay
Medieval Empires will be shipped as desktop but also mobile version, with true cross-platform gameplay. The same account can be played, either sitting at home on the PC or while being on the way to work, sitting in the subway.
Trading marketplace for any kind of resource
Medieval Empires will provide an own marketplace to trade anything NFT, that comes out of the game – may it be land, heroes, resources and much more. The users could also trade their NFTs on other marketplaces, using the Polygon chain, if they wish to.
Business Model
Revenue will be made through NFT and SFT sales (land, heroes, items) as well as the #MEE Token.
Additionally, we monetize by renting out land and securing royalties that evolve around the player economy by trading resources, units and land.
Token
Utility Token: The game's $MEE token, aka The Utility Token provides community and political influence, plus Airdrops and special Lands. It also serves as a project token for seed and private investors, whose allocations vest over time.
Dex Trade: Game coins and items are exchanged or traded within and beyond the game via exchanges and marketplaces.
GameFi: Heroes and Lineage Tokens provide both GameFi rewards and gameplay value to their holders.
P2P Taxes: Land NFTs allow players to tax others while sharing land with them, and both get to build, loot, craft and gather resources on this land.
Competitors
While our game's combination of elements give us a unique position within the current market, strategy-crypto games in general can be considered 'competitors'.
Blocklords: while they have a similar appeal, they are a more'hardcore strategy game'which due to this hardcore realtime gameplay also is not really cross-platform compatible.
League of Empires: lacking custodial wallets, still hard to get into and lacking Actor tie-in's as well as large crypto-influencer backing the project.
Roadmap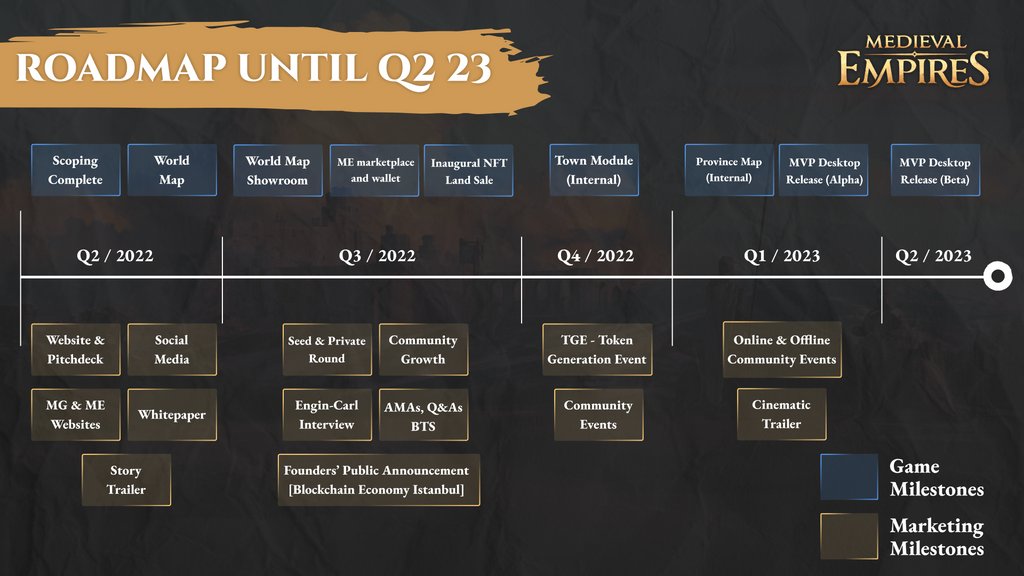 Team
Our experienced team of almost 50 people has decades of work experience working on some of the biggest games and studios in the industry. Many of our core team come from gaming studios such as InnoGames, Wargaming, King, Kabam, 5thPlanet Games, Wooga and many others, or have worked directly on Star Wars & Disney productions.
Investors
We have Carl Runefelt aka TheMoon (one of the biggest crypto influencers) and Engin Altan Düzyatan (a big international actor) on board.
Carl Runefelt: Carl, also known as 'The Moon' is the co-founder of MoonGaming, the parent company behind Medieval Empires. He is a serial entrepreneur who has invested in more than 300 blockchain-based startups and has been featured in the Top 30 Under 30 list by Forbes. The crypto evangelist has also been featured in top business publications such as CNBC, Business Insider, Coin Telegraph and Tech Telegraph UK. Carl is also the co-founder of Bitcoinsensus and Kasta, and is a well-known speaker, a respected philanthropist and a multimillionaire crypto expert with a massive social media influence. With more than 2 million followers across YouTube, Twitter and Instagram, Carl is already well on his way to being a frontrunner in the mass adoption of blockchain technologies and cryptocurrencies.
Engin Altan Düzyatan: Engin Altan Düzyatan, the award-winning actor, who rose to international fame for his role as Ertugrul Bey in Dirilis Ertugrul, is the face of Ertugrul in Medieval Empires. With a massively successful television series that garnered over 9 billion views across the world and won numerous prestigious awards, Engin will be reviving his most beloved character, this time, on the game screen. With Engin as the face of the game, Medieval Empires is set to become a game fitting of the legendary Ertugrul, and the historical legacy associated with him. Players will get the true feel of reliving some of the most action-packed and iconic events in history, right through the eyes of Ertugrul himself!