Wistaverse
Wistaverse is the first metaverse dedicated to protests and social action
POLYGON
Highlights
Product
Problem
Solution
Business Model
Token
Competitors
Roadmap
Team
Investors
Highlights
$WISTA is Wistaverse's native utility token at the center of the Wistaverse ecosystem.
It has many utilities, it gives holders Governance rights, access to the moderation of the platform, it unlocks all functionalities in our metaverse and is used as a fee for protest organizers to customize the land ahead of their event.
Each transaction is subject to a 0.5% Tax which feeds the treasury and will allow community members to use their voting power to use the treasury funds to amplify donations during events.
Product
Wistaverse first metaverse "Arena One" is built and functional, ready to use upcoming protests.
The Token utilities and protocol will be functional from launch.
Problem
In today's era, where fundamental values of freedom and privacy are constantly challenged, there is a growing need and desire for activism and global engagement.
However, communities facing increased surveillance lack decentralized tools to participate actively. This has led to a significant increase in demand for crowdfunding, civic tech, and public goods, as individuals and organisations seek innovative ways to amplify social and environmental issues and improve society. Traditional protests can be difficult for many to participate in due to geographical, economic, and health considerations, creating a democratic inequality that Wistaverse aims to rectify by empowering individuals worldwide to have their voice heard. Online petitioning, sharing content, or engaging in online activism have limited impact on political processes. The current way people engage online lack the essential component of a protest - a social event. Wistaverse fixes this by building the first metaverse dedicated to protests and social action.
Solution
Being the very first to tackle the idea of protesting in the metaverse, Wistaverse is offering a unique product that has meaning and social utility, a tool that empowers and protects users by facilitating everything from the organization of a protest to its access.
Anyone, regardless of their location, health, wealth, or government, can now join a live immersive event and protest anonymously in the Wistaverse to show support to their cause and help raise funds to fuel their action.
After putting together a team of experts in the field of the metaverse and decentralized technologies, Wistaverse Partnered with the world's largest metaverse The Sandbox Game, the world's largest activist protocol Cult DAO and VEMP Studios, and now has both the backing and the community to push it into view of the mainstream media from the very first protests. Projects like Wistaverse have the potential to bring mass adoption to Web3 and the Metaverse.
Business Model
One of the sources of revenues is the Creation and distribution of a wide range of NFTs that coincide with major events, such as avatars and wearables.
Additionally, Wistaverse offers event organizers the opportunity to hire and modify land for their protests for a fee. Participants can access all platform functionalities by holding $WISTA, while a limited set of features is available for free.
Wistaverse will also generate revenue from the sale of merchandise, and physical goods. Part of Wistaverse's treasury funds are allocated to maintaining the platform's infrastructure.
Wistaverse's core mission is to provide a public good platform that empowers the communities and that can become self-sufficient. The Wistaverse Protocol is non-profit and enables communities to use the treasury funds to amplify donations and to have a meaningful impact.
Token
Detailed utility graph: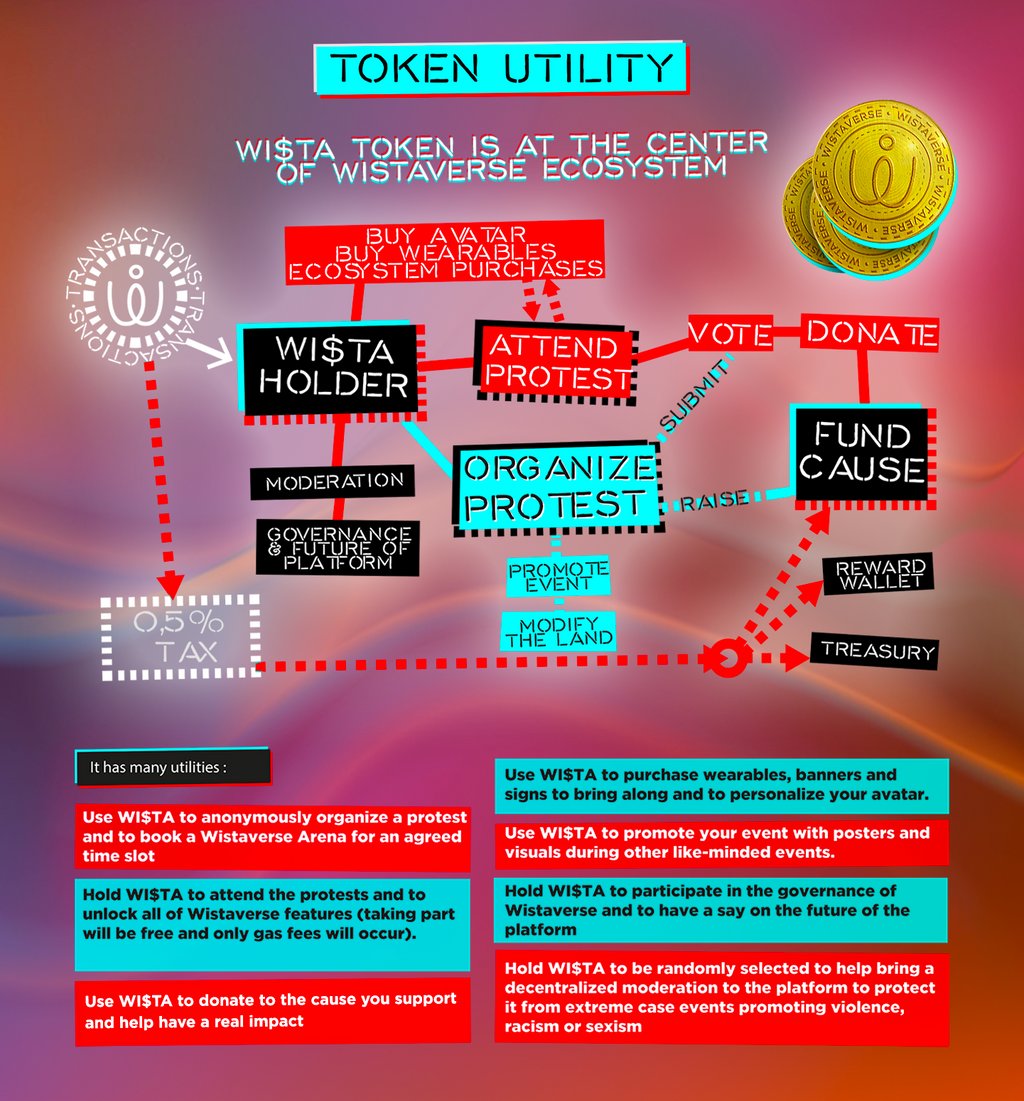 Competitors
This is a truly innovative project that has never been done before. We have no direct competitor and with our wide range of established partners, we ensure to put a stamp on the ideafrom the start and proudly carry it as the pioneers of Social Action in the metaverse.
Roadmap
Team
Gregoire Laugier
Co-Founder and CEO
Jules Alcazar
Co-Founder and COO
Talal Kurdali
Co-Founder and CTO
Dominic Ryder
Advisor (CEO of VEMP Studios)
Sebastien Borget
Metaverse Advisor ( Founder and COO of The Sandbox )
Gonzalo Ferradas
Strategic Advisor ( CEO Invicta Blockchain Capital )
Ronan Sandford
Web 3 Architect and Decentralization Advisor ( Renowned developer )
Investors
Strategic Investors and Partners
No Private investor
Partners
The Sandbox
Cult DAO
VEMP Studios
PANGU by Kennal
Boring DAO
Transform Group
Wistaverse
Wistaverse is the first metaverse dedicated to protests and social action.